Headquarters
Overview
Bizsolindia Financial Services (Bizsol FinServ) is a boutique financial services consultancy basically targeted at areas.
The company strives to streamline processes by strengthening existing operations of companies of all sizes, including financial management, project finance, FEMA / RBI statutory compliance, debt restructuring, and hedge accounting to assist in process development. To the topmost norms in its class.
Bizsol FinServ is business of the well-known Bizsol Group, a heading business consultancy with over 300 workers, with departments throughout India and a diversity of marketable services to the industry.
With a large pool of qualified accountants, lawyers and management consultants, the company has provided unmatched services in all commercial areas under one roof for the past two decades.
Advantages
Boutique firm equipped to handle complex financial issues of clients. Facilitating effective negotiations with all financial institutions.  Years of experience & expertise in all aspects of corporate finance. Assisting clients with funding ideas for efficient liquidity management. Strong belief in cogent, technology-driven solutions. Empowering our clients in structuring best-in-class financial processes. Helping clients clear band-width to de-congest bottle-necks.
Clients: Institutional clients
Support: Mon - Sat 8:30 - 18.00
Team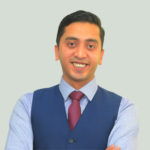 Adwait Venkitachalam
Director at Bizsol FinServ