Headquarters
Overview
AMTS Solutions is a big broker software provider. One of the company's special features is its MetaTrader 5, which allows the combination of this service with liquidity providers.
AMTS is adhere to high-demand rules. The company was created by the first-grade developers with above 10 years of background in creating technologies for the business markets.
Review
AMTS Solutions develops advanced software for brokers of different levels. One of the company's exceptional features is its MetaTrader 5 Gateway, which allows the integration of MT5 with liquidity providers.
The key products of the company at the moment are the following:
Provider management – an automated regulation of liquidity imbalances.
Floating leverage – an adaptive solution for the margin requirements
Auto Risk Management – an automatic risk management system.
AMTS API – an interface that allows you to place orders without a trading terminal.
Partial hedge – selective hedging to improve efficiency and reduce operational risks.
Exposure Monitoring – liquidity providers monitoring system.
AMTS ECN – a core product of AMTS Solutions, a multi-module platform that unites and integrates core AMTS Solutions products.
AMTS ECN Aggregator – a software that collects liquidity from the liquidity providers.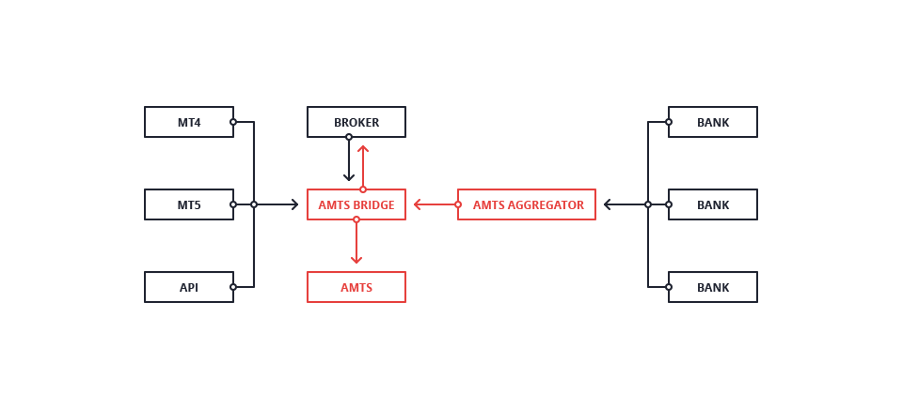 AMTS ECN workflow
MT4/ MT5/ API Bridge – Adaptive Broker Bridges.
AMTS Market Depth is a module for MT4 / MT5 that increases the transparency of the platform.
PAMM System is a software solution for private investors
AMTS Administrator allows you to manage transactions, as well as effectively trade and prepare reports.
Liquidity Solutions
AMTS Solutions provides brokers with several options for accessing liquidity. This allows the company's clients to access a high-quality stream of quotes, as well as hedge their orders without loss in speed or quality of execution. In its daily work, AMTS Solutions relies on the statistics collected over the years of building mutual integration of dozens of banks and brokers. The work of AMTS ECN Aggregator and Exposure Monitoring is based on these statistics, taking into account the characteristics of a particular liquidity provider.
Today AMTS Solutions offers three main approaches to working with liquidity:
Selection of the best providers and their adaptation to the needs of the broker;
Liquidity from one supplier, at the choice of the broker;
Renting AMTS ECN Aggregator and connect to any liquidity provider depending on the broker's current needs.
MT4/MT5/API Bridge
The MT4/MT5/API Bridge is the integration of MT4/MT5 with liquidity providers and serves as a link between MetaTrader and AMTS ECN. This allows brokers and their clients to take full advantage of the benefits of AMTS ECN. AMTS Solutions provides a custom bridging service that allows its clients to customize the experience according to their preferences.
MT4/MT5/API Bridge allows to adjust hedging parameters and the overall performance. The module does not require a separate MetaTrader server and can be run in parallel with other types of accounts. MT4/MT5 /API Bridge connects directly to AMTS ECN and can work with either a separate liquidity provider or a pool of providers of the broker's choice.
The advantages of the AMTS bridge solutions are the following:
Stability confirmed by the work of the bridge done for large companies;
High speed of execution of large amounts of data;
Flexible settings of the trading environment for the broker;
Built-in hedging system;
The ability to work without a separate MT-server;
Protection against non-market quotes and arbitrage.
The AMTS bridge is a necessary part of the system, without which other modules cannot work properly. Renting a bridge is a prerequisite for cooperation with AMTS Solutions. AMTS technology allows you to automate most of the routine tasks, which significantly increases the breaker's work effectiveness.
Auto Risk Management
Auto Risk Management is a broker's automated risk management system. The solution allows you to automate risk management activities, eliminate the human factor, and increase the broker's efficiency.
Auto Risk Management controls all trading activities in the company and automatically makes risk management decisions.
The system has flexible functionality and allows brokers to simulate different scenarios, ranging from simple notifications about a non-standard situation to full automation of decision making.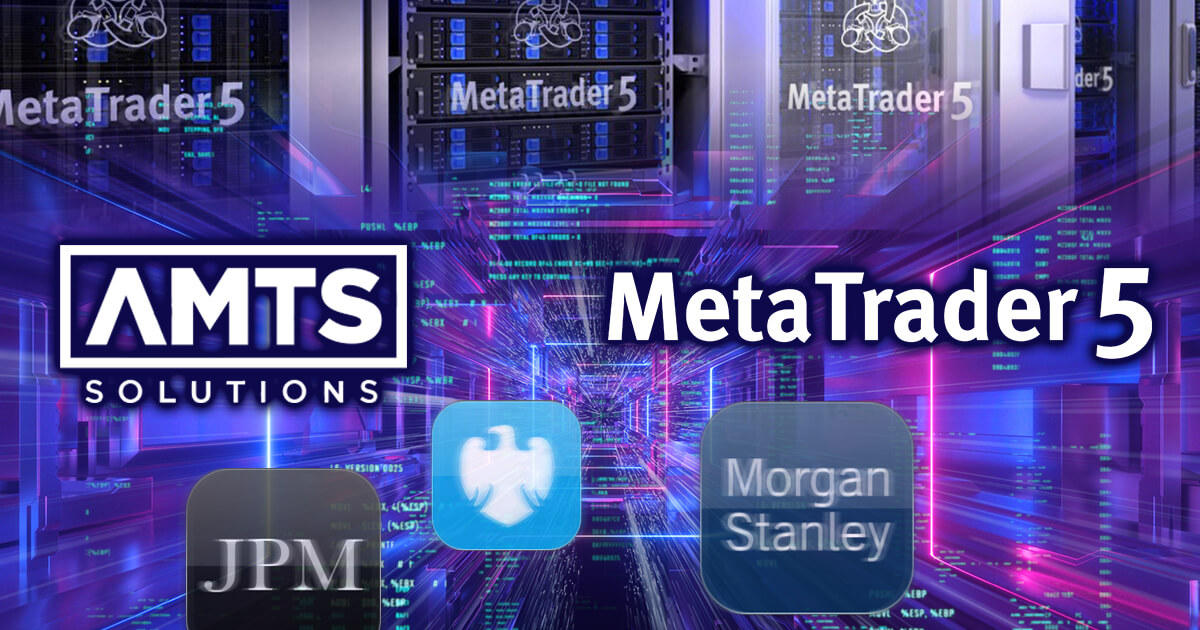 Conclusion
AMTS Solutions is an experienced brokerage software provider that specializes in liquidity management solutions. AMTS Solutions delivers complex solutions that automate the work of a broker and reduce the operations risks.
Advantages
Exposure Monitoring,  floating leverage, partial hedge, high protection against non-market quotes and latency arbitrage, MetaTrader 5 gateways to dozens of liquidity providers.
Clients: Brokerage companies
Special Clients: Alpari, Admiral Markets, GKFX, MTrading
Support: 24/5
Team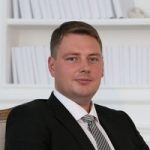 Vitaly Myrsikov
Chief Technology Officer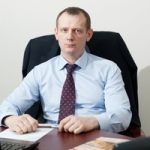 Dmitry Rannev
Chief Executive Officer